The RMRT Staff is comprised of artistic and administrative professionals from around the country.
Executive Artistic Director: Michael Querio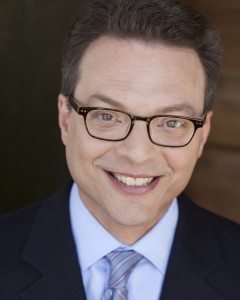 Michael Querio is a pioneer of Rocky Mountain Rep, now returning for his 13th year as Artistic Director and 23 years with RMRT. Over the years, Michael has helped produce over 80 productions on the RMRT stage, and in that time he has seen the stage from many angles – in the orchestra pit as Music Director and pianist, under the spotlight as an actor (Forever Plaid 2000, West Side Story, Titanic),and in front of the stage as Artistic Director (The Addams Family, Hands On A Hardbody, Urinetown, Seussical, Pirates of Penzance, The 25th Annual Putnam County Spelling Bee, Guys and Dolls, Jekyll & Hyde, How To Succeed…, Ring of Fire, Rock of Ages). In addition to his work with RMRT, Michael is an accomplished conductor, teacher, arranger and pianist for organizations in Chicago and throughout the Midwest. As a singer, he has performed with the Chicago Symphony Chorus, and now enjoys vocal coaching for musical theatre performers, as well as other professional groups. He has also inspired the hearts, minds and voices of young artists as a faculty member at the North Shore Country Day School in Winnetka, Illinois for over 20 years. Michael is proud to hold degrees from the University of Illinois and Illinois Wesleyan University, and is proud that RMRT was recognized as Outstanding Regional Theatre by the Colorado Theatre Guild's Henry Awards in 2014.

Artistic Associate: Jeffery Duke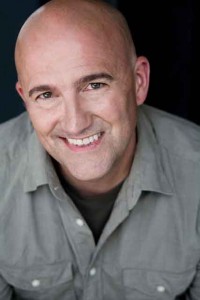 Jeff is entering his fourteenth season at RMRT and celebrating his 11th year as Artistic Associate. He feels so fortunate to be a part of this staff that is committed to bringing the highest caliber of musical theater to Grand County! He has directed and choreographed over 20 shows for RMRT, including 42nd Street, Les Miserables, Shrek, A Chorus Line, Carousel, Footloose, Chess, Anything Goes, Drowsy Chaperone, Beauty & The Beast, among others. Jeff is honored for being recognized with a Denver Post Ovation Award for his work along with Jennifer Lupp on 2009's All Shook Up. He has also directed for Windy City Performing Arts, Hudson Corporation, and Judson College. Jeff has enjoyed success as a performer and has appeared in over 20 professional musical theatre productions in Chicago. Jeff has been a featured soloist with members of the Chicago Symphony Orchestra and is a member of the Chicago Symphony Chorus, an ensemble that was awarded two 2010 Grammy Awards for their Verdi Requiem recording. Jeff conceived, produced and directed the critically acclaimed live concerts and recordings Second City Divas in Chicago (CDBaby.com). He created, manages and performs with vocal ensemble Table for 5. The ensemble performs throughout the United States, has several recordings and frequently collaborates with the Chicago Brass Quintet (tablefor5.com). He is also a singer on the Grammy nominated score of Steven Speilberg's movie Lincoln. He is a member of Actors' Equity Association and the American Guild of Musical Artists. Jeff would like to thank the RMRT Board of Trustees, citizens of Grand Lake and all the patrons who support live theater! Enjoy the shows!
Resident Costume Designer: Jesus Perez
Jesus is thrilled to be returning to Grand Lake and his family in the mountains for his 13th season! During the rest of the year living in Chicago Jesus has the privilege of being the Artistic Director of Chicago Kids Company, Theatre for Children! Now entering their 25th year. In his free time, Jesus is a freelance Costume designer, with J2 Costumes, working with such theatres as Light opera Works, St Ignatius' Harlequins, Porchlight Musical Theatre, Beverly Arts Center and Circle Theater. This year Jesus has added Marriott Lincolnshire Theatre, and Chicago Shakespeare Theatre for the Premier productions of Madagascar, the musical. He won the Ovation Award, from the Denver Post for Beauty and the Beast in 2005 at RMRT. He is also the humble recipient of two Jeff Awards (non equity wing) for Mack and Mabel and Urinetown, nominated with other Jeffs for Gentlemen Prefer Blondes and Can Can, and won the BroadwayWorld.com Best costume design award for "Best Little Whorehouse in Texas". Jesus is always thrilled to share Grand Lake with his friends and especially his family – Benita, Clyde, and the rest of those crazy nieces and nephews. P.S. They have already booked their trip for the next year—Grand Lake and RMRT does that to people! Thank you to Suzanne Mann and Jane DeBondt for their endless work and their amazing talents. There is no way he could do any of this without you. God Bless.
Financial Administrator: Karen Kulpa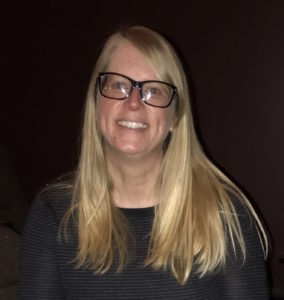 Karen is entering her second year at RMRT. She has an accounting degree from Longwood University in Virginia. After graduating, she moved to Grand County 24 years ago. When she is not chasing her five year old, Miles, she is working as an independent bookkeeper for several other companies around the county. Special thanks to the Board, Coleen, Michael and Jeff for the opportunity to work at such an amazing place. Happy 50th RMRT!
Communications Manager: Jennifer Mace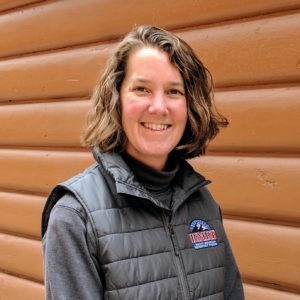 Jennifer is entering her second year with RMRT as the Communications Manager. She holds a degree from CU Boulder where she studied Advertising, English and Women's Studies. Jenn is a full-time resident of Granby, Colorado. Living here for 25 years, she loves the mountains, and loves to drag almost anyone out for a hike. Jennifer would like to thank the RMRT Board of Trustees, Michael and Jeff, and her co-workers, Dennis, Katelynn and Karen. Much love to her husband, Kelly, and two amazing daughters, Collette and Vallie. Here's to a fabulous golden anniversary summer at Rocky Mountain Rep!!
Facilities Manager: Dennis Mills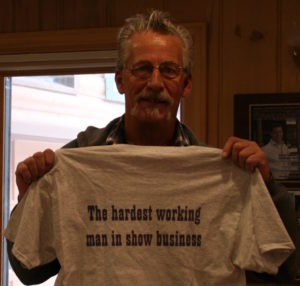 Dennis is entering his eighth year with Rocky Mountain Repertory Theatre. He is a Colorado native and has been in Grand County the last 17 years. Prior to RMRT, Dennis worked for Mel Waggoner Construction, the Denver Broncos, International Entertainment Consultants, Technical Theater and Staging, and Feyline Presents. Special thanks to Michael and Jeff. Much love to Blake and Rachel Mills. Happy 50th Anniversary RMRT!
Administrative Assistant: Katelynn Roberts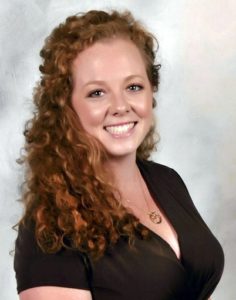 Katelynn feels so blessed to be part of the RMRT family for another year (many thanks to Michael & the Board for keeping her around)! Katelynn loves working & serving alongside an amazing Board, wonderful co-workers, and a talented Company. She is very excited and honored to be around for RMRT's Golden Anniversary. There are so many people who have helped RMRT get to 50 years, and we couldn't have done it without all of you. Thank you, and Happy 50th Anniversary, Rocky Mountain Rep!