December 3, 2018
No catch up, just keep going….
Wow…it has been a long time! Have you missed me and my blog? It hardly seems possible that 5 months have passed since I wrote an entry into this diary. To all my loyal fans, I apologize and it won't happen again…probably…until next summer.
So much has happened since June. And so much is happening now…I couldn't possibly catch you all up with the end of our Summer season, the Fall Show, the closing of the theatre for the season, our exciting RMRT Chicago Excursion, the fun gathering of alumni for parties and cabarets in Chicago, and now…the re-emergence of RMRT in our lovely mountain town for our December events. Seems like every season is a whirlwind.
Tomorrow is Colorado Gives Day…and it's an important one for our not-for-profit arts organization. Private, individual donations are vital for our livelihood. I'm very aware that there are many, many organizations asking for your donations these days. If you're considering a donation to RMRT, I thank you. Please know that we're grateful. Very grateful. If you don't know how to donate, click on this link…. http://coloradogives.org/michaelscampaignforrockymountainrep
To continue the excitement, next week we get to put our annual Home For The Holidays on stage. This year, to celebrate our 10th anniversary of these Christmas shows, we've invited back some of our favorite alumni to perform. Keely Vasquez, Jack Bartholet, Beth Lanza, Suzanna Champion, Matilde Bernabei, Todd Aulwurm. With Greg Paladino at the piano, and Kent Barrett and Josh Allen in the booth…it's going to be a party, for sure. If you haven't ever been to one of our Christmas Shows, please make your plans. Tickets are still available, and it is an absolutely magical time in the mountains.
And just a week later, we will ring in the New Year at our theatre, spending New Year's Eve with RMRT alum and theatre legend Travis Taylor. One of the most outstanding voices and personalities to ever grace our RMRT stage, and we've convinced him to come out for New Year's Eve. I'm thrilled that I get to share the stage with him, accompanying him at the piano.
And…and…and…our big 2019 Season Announcement the day after? What could be more exciting.
Right here, right now, I'm promising you an exciting Holiday Season as Rocky Mountain Rep. I hope I get to see you in Grand Lake in December.
–Michael
__________________________________
June 18, 2018
A true Rocky Mountain Rep experience…
Today is the first day of our rehearsals for THE FULL MONTY. We're approaching the point in the summer where we have three shows in our heads.
As many of you know, we opened our 2nd show last weekend—A GENTLEMAN'S GUIDE TO LOVE AND MURDER. In our normal routine, we have 2 or 3 dress rehearsals before we open the show Friday night. As we were approaching our first Dress Rehearsal Thursday afternoon, we realized that we weren't quite ready. Almost every department needed some more time, some more hands…some more work. So Thursday morning, we had all our actors and musicians do an "all hands on deck" tech time. All the actors and musicians spent a few hours doing props, or painting sets, or building set pieces, or sewing costumes. As I walked around checking in with each of the crew heads, I had my heart filled with pride. This was a true Rocky Mountain Rep moment.
When we're interviewing people for jobs for the summer, we always talk about the family aspect of working here for the summer. Everyone—from the corner suite to the beginner interns—works in all aspects of the theatre. And it truly takes the village to get the job done.
I stopped into the Costume Shop and 2 of our musicians were actively hand sewing with needle and thread. Greg said "These snaps are the best-sewed-on snaps ever!". Out in the garage, Danny was covered head-to-toe with paint—and—as usual—smiling from ear to ear. Taylor was doing all she could to hot glue fake cod and fake kale to prop dinner plates, while thinking about her coloratura soprano notes that she would be singing in a few hours.
Everywhere I went, the team was pitching in and getting all the work done—and the entire RMRT family was actively getting us to our goal—being ready for Opening Night. I've said it several times this summer already, but we truly have a GREAT COMPANY this season. They are fantastic on stage and equally as delightful off stage.
For our nearly 20,000 patrons, "Rocky Mountain Rep" means sitting in our theatre seeing 3 or 4 shows each summer. For those of us involved in the backstage process, what happened last week to get us to Opening Night Number Two is what "Rocky Mountain Rep" means to me. My heart was filled and it propelled me through Opening Weekend (and our first day off in over 3 weeks).
But, all that is now in the past…we're solidly into learning, staging, and building THE FULL MONTY. We're looking forward to seeing you in 2 weeks for OPENING NIGHT NUMBER THREE.
Here's to our outstanding 2018 Company!
–Michael
_______________________________
June 3, 2018
It wasn't the Titanic!
These days are very full…hardly any of the staff or company has any free time at all. But this morning we found the time to take our annual company photo. We scouted new locations, since we've seemed to use the same place year after year. (All of the alumni probably remember the annual trek up to Adams Falls, and cramming our company onto this one perfectly placed boulder to stage the photo).
Well, we got to our new location, and I had my iPhone ready to go…. "Hey, Chris…do you have the tripod?" "Oh, rats, I forgot it…I'll be right back." And off he went.
Meanwhile, we started to move our 40+ company members into position…on the docks. While doing so, we realized the light was in the wrong place, so we then attempted to move the mass of people into a new position. While the people were moving, one of the dock extensions started to sink into the water. I guess it wasn't made to have 40 people standing on it.
"Move everybody…move….we're getting wet." Luckily, wet socks doesn't qualify for a Workers' Comp claim!
New position….everyone ready.
Nope…the dock is sinking again! Darn it! Amy says "Just stand still, WE'RE TAKING THE PICTURE…NOW! 4-3-2-1! Got it! Done….thanks everyone." Perfect crisis management.
Ugh…just then Chris comes running up with the tripod… Sorry Chris.
And Amy isn't in the photo either…she was taking the picture before the Titanic sank.
Thanks, everyone.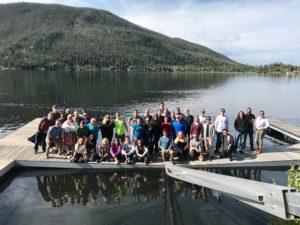 Later on, Marek says…thinking about his role as the stripper in THE FULL MONTY… "Should I work on my tan lines?"
This is shaping up to be an amazing day!
See you on Opening Night!
–Michael
———————————————
May 21, 2018
Virtual to Actual!
I don't know how we did it before the internet.
For the past few months, everyone on the production team for our 2018 season has been doing their work from wherever they reside–Chicago, Indiana, New York, Washington, etc… No one has been doing their preparation in Grand Lake. We are so thankful for email, Skype, Dropbox, Google Docs, etc. Across the country all of our designers and staff have been getting us ready for…now.
Today, Monday, May 21, our property here in Grand Lake is buzzing with activity. There is so much going on! Right now, as I sit peacefully and quietly in my (new) office, I know that our Costume Shop is being moved to its new home–just steps away from its old location. Jesus, Jane, and Connor (our 2018 Costume Staff) are working with 6 wonderful local volunteers to move all of the costuming equipment and supplies from their old, windowless, cramped quarters backstage between the dressing rooms into the recently-vacated Vine St. (former) Admin Building—the Eslick House behind our main theatre building. It is a wonderful flurry of activity.
At the same time, the carpenters are continuing their work that they started last week. Nate, the Technical Director, along with Nancy, Ben, and Lindsey are busily building things, according to the Scenic Designs. They already have quite a stockpile of pieces that are ready to be handed off to….
Our paint crew. Cody just started today, and Kelsey will be here in a few days– but before they can put brush to surface, Cody is cleaning and organizing the paint space, identifying supplies… and we're searching for the currently-but-temporarily-misplaced Paint Elevations. (We know they are here somewhere…probably at the bottom of the mound of shipped boxes waiting to be sorted and opened. Don't worry, Reuben, we'll find 'em. We checked the FedEx Tracking…Katelynn signed for them…we know they're here…somewhere)
And…at the same time, right now our Lighting crew—Randall & Blake– has begun to inventory our lighting instruments, preparing to bring Joe's design into reality.
Catheryn is poring over props lists, and Amy is making sure everyone has what they need and knows what to do.
It is a WHIRLWIND! And the beautiful thing is…this is really only the first step in us moving our 2018 Season Production from "virtual" to "actual." The actors will arrive later this week, and the musicians will arrive the following week. After that, we'll be seeing you on Opening Night.
If you're in the area, you might want to drive by the RMRT property. The work-whirlwind here today is thrilling!
Can't wait to open those doors to the crowd on Opening Night.
–Michael
———————————————————
April 23, 2018
The Future!
We're always thinking about the future…always thinking about next season at RMRT. Even when we're only weeks away from starting production for this season, we're always thinking about next season, and the one after that.
One thing I wrestle with all the time is…what's available? What new shows are being released for regional theatres to do? What is the newest thing that I could put on the RMRT stage? Don't worry… we'll always have a balance of the old and the new. We'll always have a steady diet of the "Golden Age" musical. It takes work and awareness to keep up with the new things.
This season, we have A Gentleman's Guide To Love And Murder. I think it is just finishing up its national tour. I think we're the first regional production of this show. That's about as new as we can get. I remember, several years ago (2014), I was very excited to get the rights to produce Hands On A Hardbody. It didn't do so well on Broadway…it had a very short run. I was surprised to see it listed as "available" so soon, so I applied for the rights and "voila"—it appeared on our season less than a year after it closed in NY.
Newsies, last summer, was hot off the presses. We know the show is newly available when the rental materials—the scripts and scores—are not prepared yet for our use. We had to wait a bit for them to be printed.
This past weekend, Jeff and I went to see something new that I'm eager to produce. I won't mention the title of it here, because I don't want to get peoples' hopes up, and who knows if it will actually make the 2019 cut. But it ticks a lot of boxes of genres/elements/styles that I'd like to put on our stage.
Remember all of those "disaster" films from the 70's? Towering Inferno. The Poseidon Adventure. Airport. Earthquake. I wasn't old enough to go to them, but I sure remember them. What if someone wrote a musical comedy that combined all of the clichés from those movies into one hilarious plot? And, what if it was written to be a "farce"….with the breakneck speed, a million jokes a minute, slamming doors…you know the style.
And….what if they took that premise, and added pop songs from the 70's as the score? Don't Cry Out Loud, Feelings, Hooked On A Feeling, Three Times A Lady, I Will Survive, Reunited. We laughed a lot and had a great time. All the while I kept thinking "hmmm….should we do this show at RMRT in 2019?"
We always print in our season ticket mailer the question "What shows would you like to see on the RMRT stage in future seasons?" A lot of people come up to me in the lobby during the summer and tell me. I've even had people put together complete 3-show summer seasons for me.
I suppose, now that Opening Night 2018 is not too far away, I suppose I should focus on this season, and put off the 2019 dreaming for a while.
Let me know what you think.
Can't wait to see you this summer in Grand Lake.
–Michael
—————————————————–
April 2, 2018
Spectacle!
As I look back over my blog posts, I realize that I'm talking about everything BUT theatre…our shows. I thought I might share a few thoughts about the shows we'll be putting on stage this summer. As I listen to people talk about our season—all of the different walks-of-life people that I encounter—our company of employees, the super-interested patrons who call up and order tickets, the local resident who has heard the "Boardwalk Talk", and others—it seems like the takeaway for each show can be summed up in one word or thought.
For ANNIE, the first show in our season, its "kids and a dog." Yep….there are going to be 10 little girls in the show—and a dog. We have some amazingly talented kids joining the cast…6 will be coming up to Grand Lake from Denver, Parker, Longmont, and 4 will be traveling a much shorter distance…from Granby, or from right up on Tonahutu Ridge.
Oh, and the fabulous canine actor playing "Sandy"….he's a Granby resident, but works in Grand Lake. Wait til you meet "Duffy".
Our second show is A GENTLEMAN'S GUIDE TO LOVE AND MURDER, and this is the one each season that people don't really know anything about. It's kindof a "whodunit"….except you know as an audience member who did it….it's more of a howdunit. How could a man with 8 relatives in front of him in the line of succession successfully become the Earl of Highhurst? I remember, years ago when I directed Jekyll & Hyde for RMRT, I had never directed a show with so many on-stage killings. It was a very dramatic, melodramatic, dark show, and each murder was darker and scarier than the one before. A GENTLEMAN'S GUIDE…will rival Jekyll & Hyde for number of murders on stage in a show, but the difference this season is that all of these are comic. Hilarious. Some you'll see, some you'll hear, but all of them are distinct and amazing. I love putting a good funny mystery on stage.
The third summer show is THE FULL MONTY, and all anyone can talk about is the stripping! "Are the men going take it all off?" "Are they going to be naked?" "Is there going to be full frontal?" People sure are talking about it. Some people are worried…some people are intrigued…some people are excited. We've talked with the 6 actors in the show who are going to be going the full monty. They're excited….and they also want to make sure the gym at the Grand Lake Center is available this summer. If they're going to take it all off, they want to look good while they're doing it.
I have assured the worriers that we won't be breaking any laws and that it all will be done legally, in good taste with theatrical flair. We have put a parental advisory on this show—there is a lot of adult language and adult situations. We're hoping the families will bring their kids to ANNIE and we're hoping the adults will plan a night out at the theatre for THE FULL MONTY.
This past week, this ad showed up for publication in our Playbill.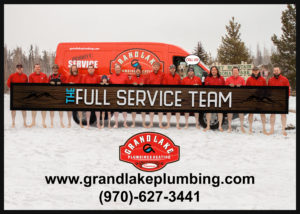 Major kudos to the team at Grand Lake Plumbing! Great ad, and wonderful spirit for out 2018 season! We couldn't stop laughing in the office.
We can't wait to see you in a couple of months!
–Michael
—————————————————————–
March 26, 2018
Getting it done!
If you live nearby Grand Lake you may know this, but RMRT has had some BIG building projects going on this winter. You may have never given a second thought to what goes on in our organization outside the theatre building, but if you're reading this blog, then you are probably interested in knowing more. I'm happy to tell you more. Especially right now. As I write this—end of March, summer still a couple months off—we are madly trying to finish up two giant projects.
The first of the two is happening on the property a little farther down Vine Street, behind our theatre, on the property that used to contain the Matchless Cabins. (We still call it the "Matchless" property.) A few years ago we built our new Design Studio on the property, leaving plenty of space for growth. Now, we're building two new cabins on the property. They are going to add to our current housing stock, and help us to ensure a comfortable home for some of the 50 employees that come to work for us in the summer.
In front of our theatre, on the opposite corner of Grand Avenue and Vine Street, sits our building we fondly call "Frieda's House." For the past several years it has contained 4 apartments on the upper level—again, more seasonal employee housing—but the lower level has been vacant and veiled behind some mysterious makeshift shades. It has been random storage, but very soon that lower level will house our Administrative Offices—our Communications Office (for Jenn), our Bookkeeping Office (for Karen and Coleen), and a bright welcoming Reception area where Katelynn will welcome you with a smile. It'll also have a nice bright Board/Conference Room and my new office, where I'll sit and write future blog posts and dream up future seasons.
Both of these stunning projects are on-track and set to be done well before the beginning of the season—which is a good thing…because we need them to be done. Our Costume Shop—the domain of Jesus Perez—has been bursting at its seams between our dressing rooms, and is desperately in need of more space—space to breathe, space to create. Once our offices move across the street, Jesus and all of the sewing machines and dress forms will move into the vacated offices/house.
These are going to be wonderful upgrades for RMRT. Our Facilities Manager, Dennis Mills, has been working his tail off to get the new offices done. And our Facilities Management Committee of our Board has been working in an amazing fashion to guide our friends at Elk Mountain Construction to finish our new Matchless Cabins on schedule and on budget.
And while all of this is amazingly exciting for us on the inside at RMRT, the people that take my breath away are our VOLUNTEERS! There is an amazingly dedicated, talented, hard-working group of people who have been dedicated to getting these projects done. They have been working tirelessly, and they have committed to continue working tirelessly until we have employees occupying all of these new spaces.
RMRT always relies on our volunteers, in almost every aspect of our operation. But now, more than ever, we're so thankful for this group of people.
When you come to Grand Lake this summer, check out our new spaces. We'll love to give you a tour.
Counting the days til Opening Night!
–Michael
March 19, 2018
Designing a season….
When we close up the Fall season at RMRT, I love it when we look back and see that almost 20,000 seats have been sold, and all of those patrons have enjoyed what they have seen and heard. It's a satisfying bookend. Right now, as we're rolling through the month of March, we're setting up the other bookend—getting it all started.
It is a pleasure right now to work with our very talented designers. As the directors of our shows, Jeff Duke and I have the responsibility to set the overall vision for each production. It is also our responsibility, and privilege, to work with our designers to bring that vision into actuality. This summer we're welcoming back ALL of our designers from last season. As we speak/read/write this blog, our Scenic Designer Reuben Lucas is working on our set designs for our summer productions. His challenges are many: he needs to help tell the story and make it understandable visually for the audience. He has to balance the needs of the show/story with the budget we have to spend and the hours we have to build it. He also needs to consider that we have not one, but THREE show sets to use and store on our stage and in our backstage wings. And he has to do it all with an artistic flair. It's a significant challenge—but he is solving all of the challenges right now, and doing it beautifully. Today, I'm including a picture in my blog post….a tiny sample of his work right now.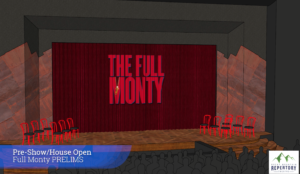 As we learned last year, it's a privilege having him on our design team.
Our costume designer—Jesus Perez—is also getting started. You've seen his work for many years at RMRT. He's a designer that I feel very honored and privileged to have in our arsenal. As Costume Designer for this season, he too has some very significant challenges. I can't give away too many details, but wait til you see (and try to figure out) A Gentleman's Guide To Love and Murder this summer. You'll be scratching your head in wonder at some of the costume department's theatrical magic.
At the Sound console, Chris Pyfrom will be back to make sure that everything you hear in the theatre will be just right—every word that is spoken, every note that is sung or played, every time a phone rings or a thunderstorm rolls overhead (IN the theatre…)…Chris will be there to make sure it is clear. Joe Burke will also be returning, designing the lighting and the projections/video, to make sure you can see everything you need to see, and to further increase the storytelling on stage. We met Chris and Joe last year, and are thrilled that they'll be with us again in Grand Lake.
Casting is done, design has begun… and everyone on this side of the productions is getting very excited about what's going to appear on our stage this season. We hope you are, too!
Counting the days til Opening Night!
–Michael
——————————————————————–
March 5, 2018
A whirlwind!
As I sit here in the RMRT office in Grand Lake, the wind is whirling about outside. The weather is always a little extreme up here….but the wind today is remarkable!
It's making me think of the whirlwind that we've been through in the last month. I know that all of you who are dedicated to reading my blog have missed having your regular "Mondays With Michael." So, it's time to get back to it.
I have had the privilege, in the last few weeks, to meet so many wonderful people… and the common thread among all of them is that they are interested in coming to join our amazing team at Rocky Mountain Rep. I've been talking to musicians, technicians, directors, designers, and actors. The energy that keeps me going during these long, long days and weeks is the energy that comes from all these people applying for jobs that we have available.
I'm thrilled whenever I can welcome back to our Company artists who have worked for us in previous seasons. I'm extra thrilled when I can welcome back people for a third, fourth, or even a fifth season. This year one of our actors will be performing his SEVENTH season on our stage. Amazing!
In addition to this seven-year veteran, we have an amazing cast lined up to appear this season. You'll see them on-stage. But we also now have lined up 6 amazing musicians to play in the pit every night…3 returning veterans and 3 new musicians. (Did you know that some people think that we use recorded accompaniments at our nightly performances? We are very proud that we have live music every night, played by live musicians. Come down front this summer and say "hi" to them.)
Before my blogging break, the last topic I wrote about was the wonderful first-audition of the little girls vying for a spot as an orphan in ANNIE. Just yesterday we had the final round of callbacks with these dynamic young performers. We had a fun, energetic afternoon on our stage, and got to know these girls a lot more. In the next couple of days, I'm going to make phone calls to invite some of them to join our cast. I sure wish we could put 20 orphans in our show, but we're going to have to limit ourselves to half that many. I know you're going to fall in love with them all this summer.
I'm happy to be back to my blogging. I'll look forward to staying in touch with you as we prep our 2018 season!
Just 3 months 'til Opening Night!
Michael
——————————————————-
January 29, 2018
Auditions begin!
What an exhilarating weekend! This past week, Jeff and I traveled to Denver and took residence (sortof…) at the Denver Center for the Performing Arts, to begin hearing auditions for our 2018 season. The beginning of the Audition Tour is always fun and exciting. Every year, year after year, we get to meet all of these amazing performers who are all eagerly trying to become part of our company—part of our family. It is so gratifying to see some people come back year after year to audition for our company, even if we aren't able to hire them. (Sometimes I wish we could hire a hundred actors for our summer company!)
What is it that makes this year's kickoff of the Audition Tour even more special? Kids!!! ANNIE and THE FULL MONTY are requiring us to have auditions for kids. We had the pleasure of listening to almost 50 young people come and sing, act, and dance for us.
We saw some great young men come and audition for THE FULL MONTY—for the role of "Nathan"—"Jerry"'s son. "Jerry" is the one of the leading men in the show—the one who cooks up the scheme to get-rich-quick by going "the full monty." Nathan is his son, and tends to be more mature than his father most of the time. The young men who came to audition for us understood the character and brought a wonderful sense of maturity to their reading. It was also great to see a couple young men who have performed on our stage before. It's really gratifying to see them grow up!
And then there's the girls…. For their first audition, we gave them a choice…sing "Tomorrow" or sing "Maybe." We listened to those songs over and over, and…honestly…it didn't get dull or boring. Each young girl brought something new to the song, and each one made us feel more and more excited for the show we're going to produce this summer. Again, among the auditioners, we had the pleasure of seeing a couple girls who have performed on our stage before. What a treat to see them grow up, and start to become mature performers.
And we're not even talking about the adults! Way to go Denver! We had people sing, act, and dance for us—from age 19 to age 65! What an amazing group of performers.
We were honored to meet everyone and so grateful that each one took time to come to our auditions and say "I'd like to be part of your company."
Special thanks to the gang at DCPA in the Education Building! You gave us a wonderful place to hear all of these great auditions.
We've gone through the headshots and made our cuts…but we're going to put them in the drawer for a few days. We're heading out to Memphis this week, for UPTAs, and about 600 more auditions. And some BBQ at the Rendezvous!
Thanks, Denver!
–Michael
_____________________________________________
January 8, 2018
The New Year
Happy New Year, everyone! Now that all the celebrations are over and we're settling in to 2018, it's time for us to ramp up to getting our season going. I hope, by now, you've seen our season announcement—and I hope you've enjoyed my appearances a) in the red dress and wig, and b) flashing the passers-by, going "the full monty". Special thanks to my director Jeff Duke and my producer Kent Barrett.
Even though we have a little breathing space right now, in a few short weeks we'll begin a very exciting time for RMRT. It's Audition Season, it's Hiring Season….it's planning season. In the next few months, we'll travel and meet over a thousand people who hope to become part of our RMRT family. My first pleasure is offering previous employees the opportunity to return to the company for another season. It is such a pleasure to welcome back a person for their second/third/fourth/fifth season–People who have become our friends as well as our colleagues.
Our most extensive effort is certainly our Audition Tour in search of actors to populate our stage in our shows this season. We'll kick off the Tour in Denver very soon, and wrap it up in New York about a month later. Jeff and I see and meet so many energized, talented performers. Taking this list of 1200 auditioners and turning it into our 2018 company with 4 complete casts is an annual labor of love. I'll post pictures of the "headshot matrix" later in February.
Finally, this year is presenting us with another amazing challenge/opportunity. ANNIE! Children's auditions. We've announced our children's auditions, and we're looking forward to seeing some amazing young people—we need several girls for ANNIE, and one young man for THE FULL MONTY. If you know someone who might be interested in auditioning, point them to our "Audition For Us" page for more information.
And…..we need a dog! OMG! I have been producing and casting theatre for more than 25 years, but I've never been in this situation before. Hey, Grand Lake, anybody have a VERY WELL TRAINED medium-sized SANDY BROWN dog who would like to be in a play 21 times this summer? Give me a call!
Happy New Year, Everyone! Here's to an amazing 2018!
–Michael
_____________________________________________
December 11, 2017
Gratitude.
Today, briefly, I just want to express my gratitude. Recently, we participated in Colorado Gives day—a statewide philanthropic movement. In addition, recently a few of our RMRT fans made some big donations—and when I stop and reflect, I'm really moved by all of this generosity.
There are many people for whom Rocky Mountain Rep is an artistic home. Actors, singers, dancers, musicians, directors, designers, choreographers, stage managers, carpenters, painters. I don't know if they are aware of how we stay afloat, or how we are able to write their paychecks.
I am….and I'm grateful to every single one of you who have donated to our cause. Of course, we appreciate our ticket-buying patrons—almost 20,000 of you this past season! At this time of year–long after the curtain has come down on the previous season, and long before the curtain rises on the new season—my gratitude goes out to each donor. I know there will be some more end-of-year donors as well….it warms my heart, just like a nicely warmed cup of Glogg.
Thanks to all of you.
Happy Holidays, and I'll write again in the new year, after we've announced our 2018 season.
–Michael
_____________________________________________
December 4, 2017
Tis The Season!
Since the Thanksgiving holiday is over, it is crystal clear, everywhere you look, that these December holidays are upon us. Throughout my career, for the 25+ years that I taught in schools, and the same amount of time that I've been a free-lance performer, December has always meant lots of work. So many concerts and performances to prepare and perform! Now that I'm not teaching school, or performing with the Chicago Symphony, or taking every caroling gig I could get offered, I have time to December-breathe….and…perhaps…enjoy the month.
For us at Rocky Mountain Rep, we're thrilled that our annual Christmas Shows have become a tradition—a tradition for us to prepare and perform, and a tradition for many of you to attend and enjoy. At RMRT, Jeff and I have the privilege of choosing some of our favorite performers and inviting them back to Grand Lake at this magical time of year. In addition to rehearsing and performing the "show", we also have some other traditions backstage. Once the show has been prepared and set, we have some videos to shoot. Maybe you've seen them on Facebook or on our website. We'll have some fun greetings to post, and we'll also have our big 2018 Season Announcement video to post—it'll be up on Facebook and on our website, and in an emailing, January 1. We're excited to tell you our plans for the 2018 season!
We also have enjoyed adding events to our traditions. Now we include a major snowmobiling adventure on Monday morning for the cast and crew of the Christmas Show. (We're hoping for snow in the next week!)
And….let's talk about New Year's Eve at Rocky Mountain Rep. Have you heard? Are you coming? Last year RMRT alum and Broadway performer Joe Carroll helped us usher in this new tradition. This year, we're thrilled to continue this new RMRT tradition. The perfect prelude to those amazing Grand Lake fireworks over the lake—in the clearest, coldest air. The fireworks are even more amazing than the July 4 fireworks—if you can imagine that.
As I anticipate my personal December, I'm thrilled that I get to prepare and participate in these Grand Lake traditions, and I'm equally as thrilled that so many of you come to join us.
Will we see you at the theatre this holiday season? I hope so.
See you soon…
–Michael
_____________________________________________
November 27, 2017
It's all swirling around!
My goodness….we just finished a brief Thanksgiving holiday, and suddenly it seems like everything is in high gear! Remember my first blog post, where I talked about "the off-season"? It doesn't feel like the off-season any more….it definitely feels "ON".
We've got everything set for our annual Christmas Show, and we're definitely looking forward to turning on our theatre lights, firing up the sound system, and welcoming our theatre-going friends back to our auditorium. Were you wondering what singers were coming back? It has been on our website for a while, but we're happy to welcome back audience favorites Cecilia Iole, Suzanna Champion, Jamie Dillon Grossman, Kyle Ashe Wilkinson, and Jens Jacobson. We're also happy to have Kent Barrett back after a short absence to run things from the technical side, with Sam Dahnert in the booth, too. And we're thrilled to finally bring Kevin Disch to Grand Lake, to play for the shows. Kevin has played piano for our Chicago and Denver auditions for years. He has been on the RMRT team, but has never been to the actual theatre in Grand Lake—I'm so happy that the schedule has worked out so he can spend a few days with us in Grand Lake.
We're also thrilled to be planning our New Year's Eve show, preparing to welcome back Matilde Bernabei to the stage…but in a new way. While Matilde has been a strong theatre performer in many shows on the RMRT stage, on NYE she'll be showcasing her music. She is a wonderful singer-songwriter—you may have caught a glimpse at a "Late Night In The Lobby" cabaret. We can't wait for this special evening.
While both of these events are in the works, we're all prepping to announce our 2018 season! And we're bursting at the seams to tell you about it. I hope you're on our mailing list—the internet e-mailing one. On January 1, we'll announce the season on our website, via an email blast, and on our Facebook page. I wish I could tell you here, but….my contract won't allow it. I might be convinced to drop some hints from the stage at the Christmas Shows….maybe…If someone asks me to in the lobby, I could be convinced.
So, for now, we're preparing. We know these next weeks will go fast, and suddenly the holidays will have passed and we'll be in the middle of our Audition Tour. For now, we'll look forward to seeing you at our holiday performances.
Have a good week!
–Michael
__________________________________________________
November 20, 2017
Shaking things up a little…
I like to shake things up every now and then. If I feel like we're in a rut, or stuck in a repetitive pattern, I want to change it up…even though I might secretly be afraid of change.
We've been thinking about our Audition Tour a lot recently. As you may know, Jeff and I travel A LOT during the month of February each year. We usually visit four cities, in a mixture of "unified" auditions and our own. For nearly 25 years, the Mid-West Theatre Auditions (MWTA) in St.Louis, have been part of our Audition Tour. A few years later we added the Unified Professional Theatre Auditions (UPTA) in Memphis, Tennessee, to our travel plans. At these two auditions, they set up the weekend. They recruit the talent, they register them and plan the whole weekend, and we (along with many other theatrical producing organizations) attend, watch, and choose who we'd like to hire. In a typical MWTA weekend, we'll see approximately 300 auditioners, along with 20 or 30 other producers. In a typical UPTA weekend, we'll see about 600 auditioners, along with 60 or 70 other producers.
About 15 years ago we started doing auditions in Chicago—our own auditions…not sharing with any other producers. We started with a half-day and about 20 auditions. This year we'll be holding 4 full days, and many hundreds of young hopefuls. A few years ago we started doing auditions in Denver, too.
It takes a lot of time and a lot of effort—and a lot of "sitting and listening." But, by sitting through all of these many hours of auditions, we are able to find the hottest talent that is out there to bring to Grand Lake each season.
For a few years now we've been feeling like it's time to expand our audition scope. Almost since the first days we've been asked "Why aren't you holding auditions in New York", "When are you coming to New York?" So…this year…for the first time, we'll be hearing auditions in New York. We have some good alumni friends who are helping us get started—thanks Andrew Cao, thanks Emily Waver. We're looking forward to seeing how holding auditions in this legendary theatre city can help us with our goal—to constantly improve the quality of productions we present on our home stage in Grand Lake.
And, for the first time since I've been associated with RMRT (remember….I started way back in 1995)… we won't be seeing that lovely Gateway Arch over the Mississippi, or dining on "the Hill" after our first night of auditions. I'll miss you, St. Louis. But…we're gonna take a bite out of the Big Apple this year.
I'll let you know how it turns out… Happy Thanksgiving, everyone!
–Michael
_______________________________________________________________
November 13, 2017
The "off-season"…
It's my first blog entry….I'm not sure who will read this, if anyone. But I've committed to writing a blog…so…here it is. I'm going to share some thoughts each week for our loyal Rocky Mountain Rep fans. I invite you to reply, engage, provoke, respond, encourage…reach out to me and communicate. I'd love to hear your thoughts.
As I've traveled this past week, I've thought about RMRT's "off-season"—it's the season during which we don't produce our big musicals. We have performances scheduled nightly, as you know, during June through September. During the other months, the lights in the theatre only come on for Home For The Holidays—two performances in December, and New Year's Eve—one night at the end of the year.
What do we do in the "off-season"? I've recently been asked "Are you just getting ready for next summer?" Yes, that's part of it. RMRT is truly a year-round company. In addition to myself and Jeff (Duke, Artistic Associate), there are three other members of our team working steadily—and maybe more busily—during these "off" months. Call the office, stop by…you'll meet them…Katelynn Roberts (Administrative Assistant), Jennifer Mace (Communications Manager), and Dennis Mills (Facilities Manager)
On Monday of this past week, Jeff and I traveled to Healdsburg, California, to meet up with a wonderful group of RMRT supporters who all bought/won a trip to wine country as part of our annual gala Cabaret Live Auction. The highlights of the trip—in addition to the wines of several wineries in Sonoma County—were certainly cabaret performances by a couple of our favorite RMRT alumni. Travis Taylor took a couple days off from the national tour of The Phantom of the Opera, and Sarah Bockel took a couple days from the national tour of Beautiful: The Carole King Musical to come to Healdsburg and perform two intimate Cabarets for these loyal patrons. I had the pleasure of playing piano for them…and it was an awesome experience! It was so wonderful to re-connect with these outstanding, thrilling performers, and to be a part of the interaction of all of these members of the extended RMRT family.
Two years ago the "Cabaret Extra" travel experience took us to New York City, to re-connect with alumni there. Last year, the "Cabaret Extra" took us to Chicago to re-connect with alumni in the Windy City. This year to California. Where will RMRT go next year? Stay tuned… Got any suggestions?
See you next week….
–Michael