Education
---
Experiences to Carry Through Life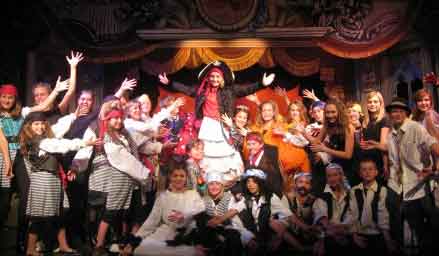 The RMRT Youth Theatre Program's mission is to provide Grand County youth, ages eight to 18, with an educational, cultural and empowering life experience through participation in a theatre workshop.  Directed by critically acclaimed teaching artists from around the country, each program culminates in performances in which participants engage in all phases of theatrical production.
The RMRT Youth Theatre Workshops are offered in three age-appropriate programs:
Youth Theatre Workshop (7-9 years old)
Director: Anna Danielson
A free-spirited, two-week workshop geared toward introducing and practicing the basics of theatre. This workshop is sure to spark an interest in the arts for a lifetime as one learns what it takes to put on a show using Broadway song, dance, lights and music taught by RMRT's very own acting company. This workshop is designed to offer age-appropriate vocal, acting and dance coaching and concludes with three performances of Broadway song and dance. Not to be missed entertainment!
Youth Theatre Production (10-12 years old)
Director: Laura Bess Ewing
Lights, music, show time!  This three-week program is devoted to producing a full-length theatrical show.  The RMRT acting company teaches audition techniques, stage blocking, prop and set creation and performance skills, resulting in 4 performances of this year's show!
Teen Theatre Academy (13-18 years old)
Director:
RMRT Alumna – Anna Danielson & TBA
This intensive three-week program focuses on developing the craft of a creative artist.  Teens with all talents:  musicians, painters, poets, singers, etc., receive training in the area of monologues, scene study, audition technique, stage combat, dance, vocal study, and creative writing, all conducted by RMRT professionals.  The workshop will culminate in three cabaret-style performances including original material generated by the participants; guaranteed to make you smile.
Consider sponsoring one of our Youth/Teen Theatre productions!
Youth Theatre Sponsor Information