The RMRT Company is comprised of actors, musicians and technicians from all across the country. Each year, over 1,200 artists audition and apply to become a member of this talented ensemble. Our company showcases some of the finest talent in the nation.
Our Cast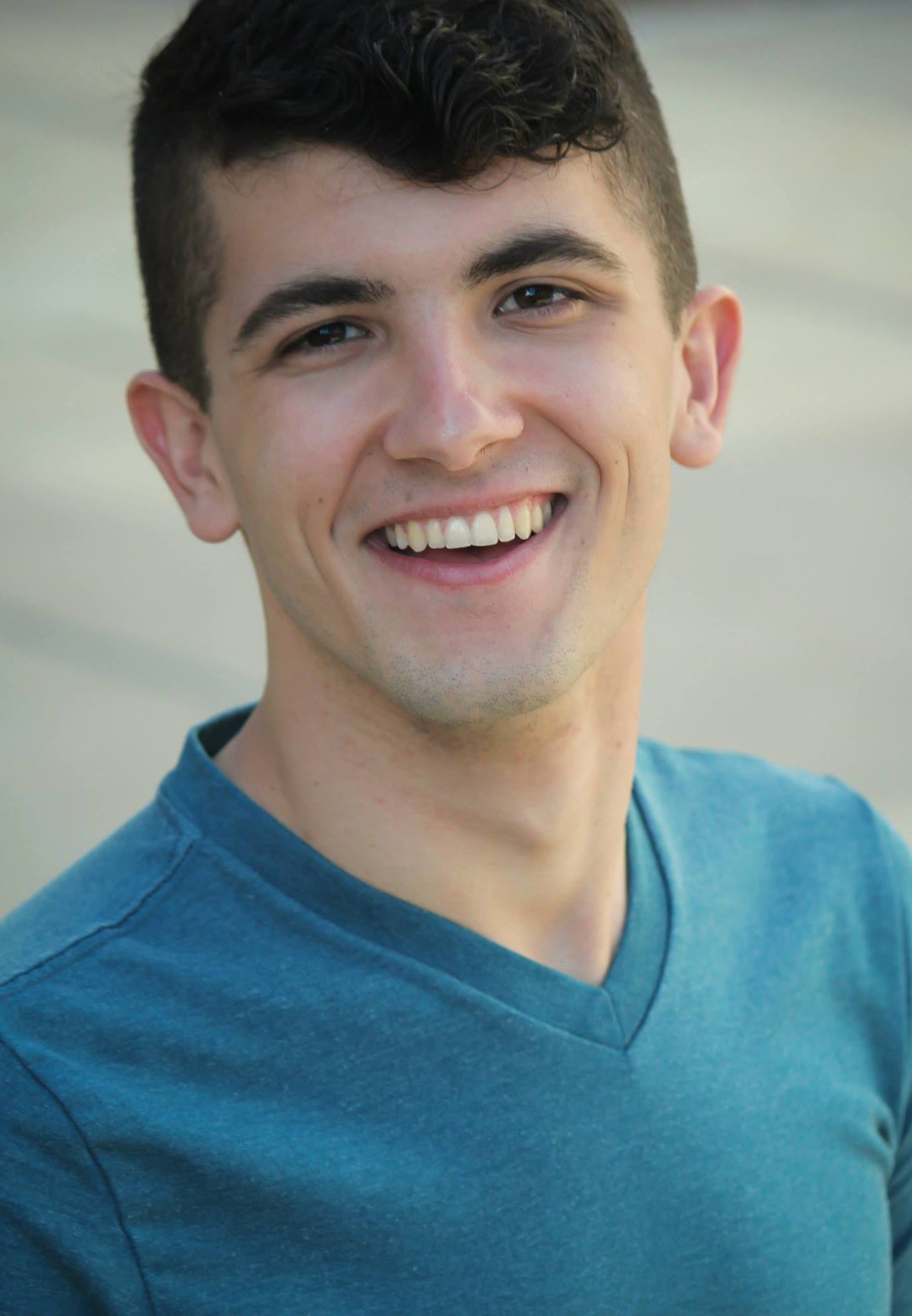 Todd Aulwurm is elated to be coming back to one of his favorite places in the world. Last year he had an amazing time playing Dennis in All Shook Up and Lucas in Addam's Family. He just recently graduated from Indiana University with a BFA in Musical Theatre and is excited to start his journey in the big world. He would like to thank his Mom, his brother, Paul, Brian and all of his Aunts and Uncles for supporting him. He'll try to keep making them frequent fliers. For those keeping track, Todd still whistles and plays the cello quite often. Todd is from Crown Point, IN.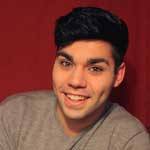 Brian Bandura is thrilled to return to RMRT for a second season. Some of his favorite roles include Andy Lee (42nd Street), Neville Landless (The Mystery of Edwin Drood), Warner (Legally Blonde), and The Wolf (Into the Woods). Brian was last seen performing in Chicago with Union Station's Polar Express Train Ride Experience. A recent graduate of Indiana University's Musical Theatre Program, Brian plans to move to NYC in September.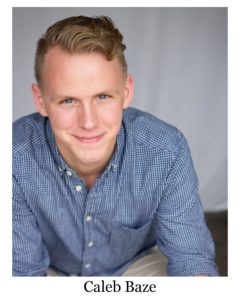 Caleb Baze is ecstatic to be making his Rocky Mountain Repertory debut with such an amazing season! Chicago credits: Porchlight's Dreamgirls (Dave/Ensemble), The Marriott Theatre's Spring
Awakening (Ensemble) and The World Premiere of October Sky (Ensemble/Homer & Quentin u/s) along with Theo Ubique Cabaret Theatre's productions of A Marvin Hamlisch Songbook (Featured Vocalist) and Jesus Christ Superstar (Simon). Regional credits: Next to Normal (Gabe), Shrek: The Musical (Pinocchio),Jesus Christ Superstar (Peter), Godspell (All Good Gifts Track), All Shook Up (Dennis). Caleb is a graduate of The University of Central Oklahoma with a BM in Musical Theatre. He was recently featured as one of the 10 Hot New Faces in Chicago Theatre by Chris Jones of The Chicago Tribune. Many thanks and much love to Mama, Memaw & Poppy, my family, Stephanie, Michael & Jeff, and the rest of the RMRT Staff and Donors.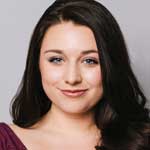 Suzanna Champion, is simply giddy to be returning for her third season with RMRT in Million Dollar Quartet. After spending the last 7 months traveling the world as a singer on Oceania Cruises, Grand Lake still remains the most beautiful place on earth! You may remember her from last summer at RMRT as Wednesday Addams in the Addams Family. Other favorite credits include Laurey Oklahoma  and Cinderella Into the Woods at Belmont University. Huge thanks to Michael and Jeff for all they do, and to Mom, Dad, Ben and Bay for your constant love and support.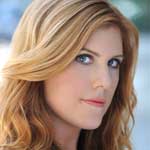 Shelley Crawford is so excited to be returning to RMRT for a second season! You may remember her from last season as Miss Sandra in All Shook Up, Ensemble/Bride in The Addams Family, and Diane in 42nd Street.  Other regional credits include:  Rosellah in The Legend of Jim Cullen, Mrs. Cratchit in A Christmas Carol: The Musical, Narrator in Joseph…Dreamcoat, Amy in Little Women, and Bobbi Michelle in Last of the Red Hot Lovers. In the fall, she will return to the Chicago area.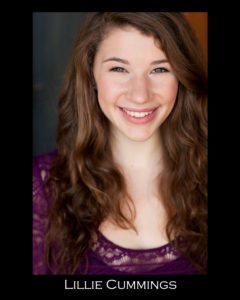 Lillie Cummings could not possibly be happier about summer in the mountains. She is a Chicago-based actor and a native of Milwaukee, WI. Favorite credits include Les Miserables (Eponine) and Oklahoma (Ado Annie) at the Paramount Theater, Godspell at the Marriott Theater, and Schoolhouse Rock Live with Emerald City Theater. Lillie is a graduate of Northwestern University. She sends love to Mom, Dad, Henry, and her ever-strong Chicago Theater Community.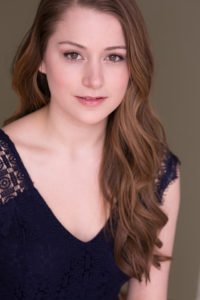 Paige Daigle is thrilled to return to beautiful Grand Lake, CO with all of these wonderful, talented people! After graduating with a BFA in Musical Theatre Performance from Columbia College Chicago, she has been lucky enough to be doing theatre here in Col
orado. Some of her favorite CCC credits include: Oklahoma! (Laurey Williams), Violet (Young Violet), Arcadia (Thomasina), Boeing Boeing (Gloria) and Language of Angels (Allison).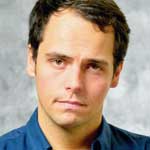 Christopher Davis is so excited to trek back up to RMRT for a second year. Last summer he was Lurch in The Addams Family, Julian Marsh in 42nd Street, and Earl in All Shook Up! Throughout the year, he frequents Illinois children's theatre and maintains company membership at the Raue Center for the Arts in suburban Chicago (Frankie in Plaid Tidings, Anthony in Sweeney Todd, Chris in Hands on a Hardbody, Brad in Rocky Horror, and more.) Other regional theatre favorites include Pirates of Penzance aboard the Tall Ship Windy at Navy Pier (Frederick), Fox Valley Repertory's No Way to Treat a Lady (Det. Brummel), Almost Maine with Steelbeam, and others! Huge thanks to Mom and Aunt Wiz, Jeff, Michael, Carol, Jesus, Suzanne, Katelynn and the rest of the RMRT team, and Joshua.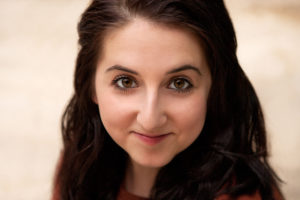 Jamie Dillon Grossman is beyond stoked to be making her RMRT debut this summer! She just graduated with a BFA in musical theatre from the University of Arizona in May. Some of her
favorite credits include: The Full Monty (Georgie), Barefoot in the Park (Ethel Banks), Reckless (Pooty), and A Little Night Music (Fredricka). Thank you to everyone this summer, Mom, Dad, and Carly. Lets Rock and Roll!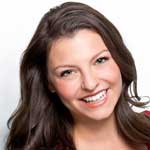 Cecilia Iole just can't get enough of Grand Lake and is overjoyed to be spending her third summer here in the mountains. Past RMRT credits include Cosette in Les Miserables, Lorraine in All Shook Up, and Phyllis in 42nd Street. This past year Cecilia relocated to Chicago after graduating from the University of Arizona with her BFA in Musical Theatre. Chicago credits include The Ghost of Christmas Past in A Christmas Carol (Quest Theatre Ensemble) and Olive Ostrovsky in 25th Annual…Spelling Bee (Steel Beam Theatre). She would like to thank Michael and Jeff for continuing to make her dreams come true year after year, her incredibly supportive parents, and all the friends with her on this crazy adventure. "This is where I belong!"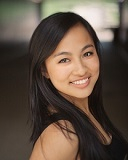 Quynh-My Luu is a graduate of James Madison University and holds a degree in Musical Theatre.  She is thrilled to be joining the company of RMRT this summer, especially since being a mermaid was a childhood dream of hers.  Some of her favorite past roles include Kate in Lippa's The Wild Party and Kim in Miss Saigon.  Quynh-My plans to head to New York City soon after the summer.  More information on her activities can be found at www.quynhmyluu.com.  She is so grateful for and would like to thank her family, friends, and mentors for their constant support.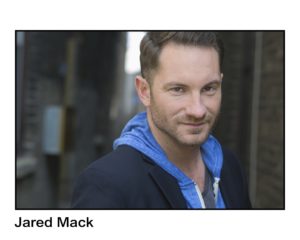 Jared Mack is thrilled to make his debut at Rocky Mountain Repertory Theatre.  He holds an MFA in Acting from Northern Illinois University, and studied at the Moscow Art Theatre School in Russia.  In 2015 Jared played Charlotte Corday in Marat/Sade at the Adana International Theatre Festival in Adana, Turkey.  He recently directed a studio production of Wil Calhoun's The Balcony Scene at NIU.  Jared is a member of SAG-AFTRA, and has appeared on SNL and 30 Rock.  Favorite past roles include George in Who's Afraid of Virginia Woolf?, and Moe Axelrod in Awake and Sing. Film credits include One Fall, The Pin, Ignore, and Lucid.  In October Jared is moving to Portland to continue his artistic journey.  He would like to thank his wife Piper for her love, support, and patience!
Michael E. Martin is overjoyed to return to Grand Lake for another breathtaking summer! Most recently seen on the RMRT stage in this past winter's Home for the Holidays and as Donkey in Shrek in 2014. In the spring, Michael made his Chicago debut with The House Theatre of Chicago in the world premiere of United Flight 232. Regional: Kerchak in Tarzan and Judah in Joseph and the Amazing Technicolor Dreamcoat (Thingamajig Theatre Company), Ronald McCowan in Hands on a Hardbody (Rocky Mountain Repertory Theatre), and Stewpot in South Pacific (CityRep). St. Louis native with a MM in Music Theatre from Oklahoma City University and a BM in Music Education from Murray State University. Love to Mom, Dad, Vickie, Nuke, and Cherie. Utmost gratitude to MQ and Jeff. All glory and honor to God! michaelemartin.com.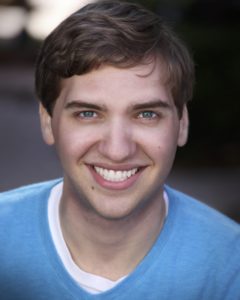 Ethan Ray Parker is thrilled to be making his debut with RMRT! He graduated May 2015 with a B.F.A. in Musical Theatre from Valdosta State University. Favorite past credits include: Sweeney Todd (Anthony), Piano Duel at Hersheypark (Pianist/Singer), Evita (Juan Perón – Irene Ryan Nomination), A Little Night Music (Mr. Erlanson), and She Stoops to Conquer (Marlow). In addition to performing, Ethan has also served as an audition accompanist, rehearsal pianist, and pit keyboardist for various companies in the southeastern United States. He has played piano for 13 years and is excited to bring to life one of the greatest rock and roll pianists of our time: Jerry Lee Lewis! Love and many thanks to his family. Ethan dedicates his performance to Michael Cowger.
Matthew Thomas Provencal is new to the Midwest and is extremely excited and grateful to make his debut at Rocky Mountain Repertory Theatre! Chicago Credits: Fector (Dogfight) Boho Theatre, Chet (The Burnt Part Boys) Towle Theater, Robertson Ay (Mary Poppins) NightBlue Performing Arts. Regional credits: Boland (The West Coast Premiere of Pasek and Paul's Dogfight), Enjolras (Les Miserables), Chip (25th Annual Putnam County Spelling Bee), Henry (Next to Normal), Ben Rogers/Young Fool (Big River at Theatreworks SV with Tony Winner James Monroe Igleheart), Anthony (Sweeney Todd), Giuseppe Naccarelli (Light in the Piazza), Johnson/Archie (Bonnie & Clyde) and has worked at California's Great America in Santa Clara California. You can also see Matt in his Web Series: Stupid Mario World at www.Youtube.com/RichAlvarez. Matt is excited to work with such a talented cast/crew. Thank you to David and Austin for the opportunity! Love/Thanks to Gary Martinez, Natasha Burr, Faith Prince. Special thanks to Sierra Nibbe and Mom. Love you both.
Erin Riley Regional credits: The Palace Theatre's Shrek: The Musical (Gingy/Wicked Witch), The Little Mermaid (Arista/Maid), Peter Pan (Tiger Lily) and the Lawrence Arts Center's West Side Story (Maria). International community theatre credits include Cinderella (Cinderella) in Tbilisi, Georgia. Emerson Stage: Guys and Dolls (Miss Adelaide), The World Goes 'Round (Woman 2), Carousel (Ensemble/Snow Child) and Lizzie Bright and the Buckminster Boy (Ensemble).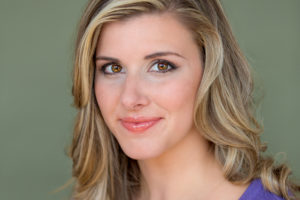 Carol Rose is delighted to return to RMRT for the first time in FIVE years! You may remember her as Hope Cladwell in Urinetown ('08) or Rona Peretti in Spelling Bee ('10). Carol grew up in St. Louis, Missouri but now lives in Chicago with her husband (RMRT alum Peter Durkin) and their sweet black labrador, Buster. Favorite credits include Into the Woods (Baker's Wife), The Original Grease (Marty), and Tomorrow Morning (Catharine). Carol would like to thank her family and friends for their love and support, but most of all her Hubs and Bubs for making her so happy.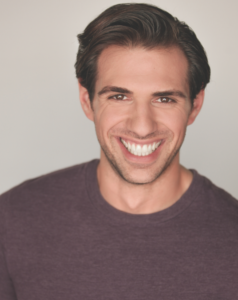 David Sajewich is excited to be spending his summer at Rocky Mountain Repertory Theatre.  Mainly performing in Chicago and the midwest, David performed in A Wonderful Life, Once Upon a Mattress, and Legally Blonde (Fireside Theatre); All Shook Up (Theatre at the Center and Fireside Theatre); The Full Monty (Stages STL); Les Miserables (Drury Lane Oakbrook); The Pajama Game, The Baker's Wife, and Do I Hear a Waltz? (The Music Theatre Company); Fiddler on the Roof (Paramount Theatre); Romeo and Juliet (First Folio); and The True Story of the Three Little Pigs (Lifeline Theatre).  He also starred as Ash in the first national tour of Evil Dead: The Musical (BWW Nomination: Best Lead Actor in a Touring Production), which toured around the states as well as Canada. Thanks to everyone at Rocky Mountain for having me and to my family, teachers, and Haley for the love and support. www.davidsaje.com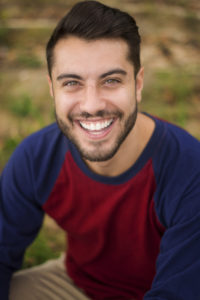 James Schoppe is totally pumped to be back with RMRT for his third summer in the mountains.  A graduate of Shenandoah Conservatory, some of James' favorite regional credits include: Diner (Signature Theatre–World Premiere*), West Side Story (Palace Theatre), Footloose (Seven Angels Theatre).  He would like to thank his family and friends for all their encouragement, the supportive community in Grand Lake, Jeff, MQ, and Jesus. www.JamesSchoppe.biz  Scorpio Power 😉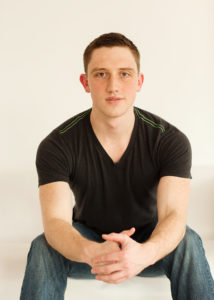 Colin Schreier is thrilled to be making his RMRT debut after a two year hiatus from performing and is excited to be involved in such a wonderful season.  He started his collegiate career at Ball State University studying Secondary Education and after two years and a little soul-searching finished at Indiana University-Bloomington with a BFA in Musical Theatre; he feels incredibly lucky to have spent his time amongst some of the best friends and educators a person could ask for.  Thank you always to his friends, family, and anyone else who has been a part of this crazy journey.  Professional Credits include: IQ in Hairspray!; Judas/John the Baptist in Godspell.  Educational Credits include: Billy Flynn in Chicago; Georges Seurat in Sunday in the Park with George.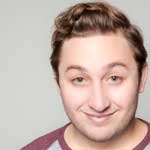 Steven E. Sitzman is beyond excited to be returning to RMRT again this summer.  You may remember him from last year in The Addams Family (Uncle Fester).  The past two years Steven has been on tour with A Christmas Carol through Nebraska Theatre Caravan, and recently has performed in The 39 Steps at Round Barn Theatre at Amish Acres and also The Buddy Holly Story at The Palace Theatre in NH.  Steven wants to thank his parents, the wonderful patrons of the theatre and Michael and Jeff for accepting him into the RMRT family.  Round BFA graduate from Niagara University Theatre.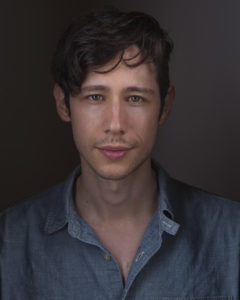 Colin Summers is a Brooklyn based actor, musician and writer.  When not performing elsewhere in the country Colin can be found writing and performing 2-minute plays with The New York Neo-Futurists in their ever changing show Too Much Light Makes the Baby Go Blind, running in NYC since 2004, or with his band Toys And Tiny Instruments.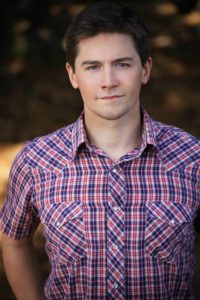 Chance Wall is so very excited to return to Grand Lake! He made his debut at RMRT in Fall of 2013 in Ring of Fire. Chance hails from Winder, GA and received his B.F.A at Valdosta State University. Since graduating, he has been working for companies across the country including, Peach State Summer Theatre, Texas Shakespeare Festival, and Cumberland County Playhouse. Grand Lake is one of his favorite places, and he is overjoyed to be back! He would like to thank his family and friends for their undeniable love and support!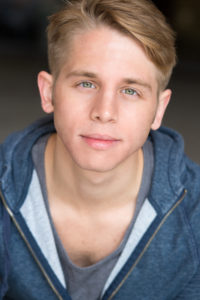 Kyle Ashe Wilkinson is excited to be joining RMRT this summer! He received his BFA in Musical Theatre from the University of Central Florida. Since then, he has worked regionally at Florida Repertory Theatre and Crane River Theater Company, while singing for various cruise ships and events with Entertainment Central Agency. Some of his favorite credits are Becky's New Car (Chris), All Shook Up (Dean), A Year With Frog and Toad (Snail, Bird, etc.) and Kiss of the Spider Woman (Molina).
Our Choreographers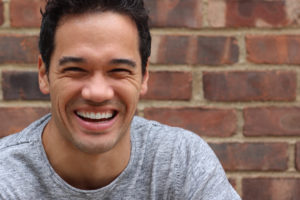 Andrew Cao is so excited to be back in the mountains with you all. He spent a number of summers at RMRT, both as a performer and choreographer, and is blessed to have been involved in 12 shows on the RMRT stage over a span of the last 16 years.  Andrew currently lives in New York with his wife and two kids where he is a cast member in Disney's Aladdin on Broadway. He was also lucky to be a part of two other shows on The Broadway: Anything Goes with Sutton Foster and Joel Grey and Nice Work If You Can Get It with Matthew Broderick and Kelli O'Hara. Andrew has been doing a little television, too. You can see him in Mysteries of Laura, Blue Bloods, and he shot a pilot called Drew (based on The Nancy Drew books) that will hopefully get picked up by CBS this fall.  A special thanks to Michael Querio, Jeff Duke, and all the remarkable people of Grand Lake for the unbeatable friendships and years of amazing memories. www.andrewcao.net
Instagram: @heycao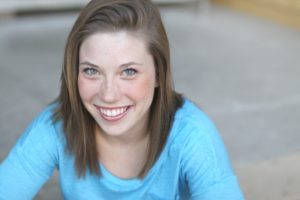 Stephanie Hansen couldn't be happier to back with her family in Grand Lake! She started with RMRT as an actor and loved it so much that she couldn't leave, no matter how hard anybody tried to get her to. Some roles you may have seen her as are Rosemary in How to Succeed…, Tiger Lilly in Peter Pan, or Erma in Anything Goes. She also choreographed Forever Plaid and co-choreographed Double Trouble at RMRT. Stephanie is passionate about teaching kids and is choreographing for the RMRT Youth Theatre Program for the sixth year in a row. Back in Chicago, Stephanie teaches at a dance studio called Sunshine Dance Project. She performs as much as possible, most recently as Ursula in Bye Bye Birdie at Drury Lane Theatre. When not performing or teaching, Stephanie enjoys songwriting, running, and exploring the wonderful city of Chicago! Thanks to Jeff and Michael for always believing in me and letting me into their special family at RMRT. Much to love to my family and Caleb for all the encouragement and support. For more info: www.stephhansen.com .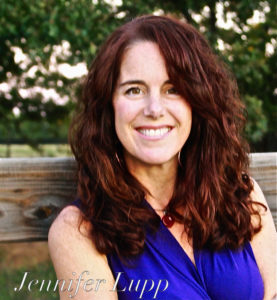 Jennifer Lupp is grateful and overjoyed for the opportunity to return to beautiful Grand Lake.   This marks her 8th season to choreograph with RMRT!   Special thanks to Jeff and Michael for continuing to make this theatre such a 'jewel'!   Sweet thanks to Jesus for making it so colorful (and fun), and Kent for his 'cool' and artistic sets! I am honored to work (and play) with all of you.
Jen has performed and lived in Chicago, L.A., Las Vegas, Wisconsin, Oklahoma and toured nationally.  She now lives in Oklahoma and is the director of her own dance studio. She is also a member of AEA and SDC.   Love to her family: K.C., Patrick, Jackson, and "Doc".
Artistic and Production Staff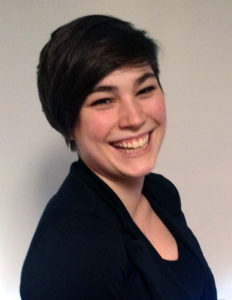 Sarah Blocher is delighted to be involved with the Rocky Mountain Repertory Theatre for the first time. She is a junior theatre design major at Dickinson College, has assisted in the design and performance of many main-stage shows and is a founding member of a small theatre company, In The Wings LLC, located in her hometown of Frederick MD. She is excited to gain professional experience in behind the scenes and managerial work. She would like to thank Kent Barrett, Dickinson College, and the Rocky Mountain Repertory Theatre for allowing her to have this opportunity.
Kate Darby is happy to be a part of Rocky Mountain Repertory Theater for the first time. She is a recent graduate of North Central College in Illinois where she studied theater design and technology as well as business. Other collegiate stage management credits include The Light in the Piazza, Macbeth, and Hedda Gabler.
Sean Fanning is a Southern California based designer and is excited to be making his RMRT debut. Recent credits include Full Gallop (Craig Noel Award Nomination), A Doll's House, Kingdom, Plaid Tidings (The Old Globe), Everybody's Talkin': The Music of Harry Nilsson, Honky, In the Heights (San Diego Repertory Theatre), My Mañana Comes (Marin Theatre Company); Hay Fever, The Vortex, Dogfight, The Whale, Sons of the Prophet, Pageant (Cygnet Theatre Company), Brownsville Song (Moxie Theatre); Now or Later and the World Premiere of The Boy Who Danced on Air (Diversionary Theatre); West Side Story (San Diego Musical Theatre), South Pacific, Jane Austen's Emma, and Little Shop of Horrors (Summer Repertory Theatre),The Improv at Harrah's and Menopause The Musical (Harrah's Las Vegas). He holds an M.F.A. in Scene Design from San Diego State University. See more of his work at www.seanfanningdesigns.com .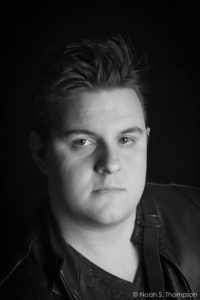 Michael Galamba is a recent graduate of Dickinson College, earning his B.A. in Classical Studies and Archaeology. In addition to his academic pursuits, Michael has remained an active participant with the Dickinson Department of Theatre and Dance, improving his skills in technical theatre by working as the Lighting Supervisor, Scene Shop Assistant, and Costume Shop Assistant. A staunch support of interdisciplinary endeavors, Michael believes that one never has to compromise their interests when combined in creative ways that forward intellectual and artistic pursuits. Leading by example, Michael studies Ancient Roman theatrical production, and in turn, is influenced by the ancients when creating art. He is grateful for the opportunity of the Rocky Mountain Repertory Theatre has given him this summer, as he can continue to celebrate his passion.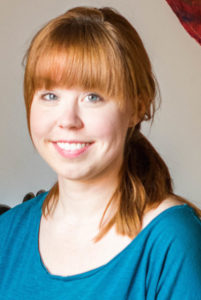 Mary Olin Geiger is an artist and theatrical technician. She keeps a studio at The Millworks in Harrisburg, PA, where her practice examines waste, re-use, and the value of traditional craft. Recently, she participated in a National Park Service Artist Residency at the Mojave Preserve in the high desert of southern California. Her work in props and scenic painting has been seen at the Vineyard Theater, New 42nd Street Studios, Manhattan Theater Club, New World Stages, and the McKittrick Hotel, among others. She has designed scenery at the Irondale Center (Brooklyn), Tank NYC, Incubator Arts Project, and Rocky Mountain Repertory Theater. She was recently featured in Philadelphia's Art in the Open.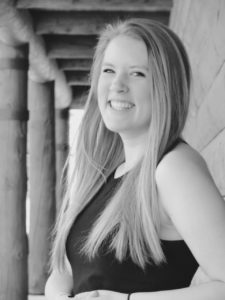 Mollie Heil is ecstatic to be working once again in beautiful Grand Lake, CO. This is her sixth year with RMRT, and she hopes it won't be her last! Mollie will be pursuing her passion of theatre this fall at Webster University where she will be majoring in Stage Management. Some of Mollie's favorite shows she's worked on include Little Shop of Horrors, Joseph…Dreamcoat, and The Foreigner. Mollie would like to thank Jamie Oberhansly, for inspiring her love for theatre, and her family for always encouraging her in everything she does. Enjoy the show!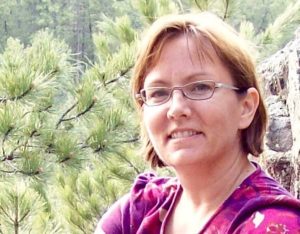 Suzanne Mann is currently a free-lance designer in California. Prior to returning to the life of free-lancing she was the Costume Shop Manager/Resident Designer for The Western Stage in Salinas, California for five years. This is her sixth year working with RMRT, and she is delighted to be back! Her most recent designs are The Liar, Crazy For You, and Christmas Story, The Musical, all at The Western Stage. Prior to moving to California, Suzanne spent eight years designing in the Chicago area. Her many designs there include Hay Fever, Enchanted April, and Meet Me in St. Louis. Hay Fever won the Joseph Jefferson Award for Costume Design (2009). Meet Me In St. Louis received both a Joseph Jefferson Nomination and an After Dark Award for Best Costume Design (2007). She has an MFA from The University of Missouri-Kansas City.
Thank you Jesus for the many years of friendship and creative work!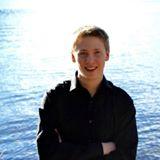 Blake Mills is thrilled to be back at RMRT for his 6th season in a row. He is ecstatic to be back. He is fortunate enough to have been raised in Grand County.  Blake will be attending the University of Colorado at Boulder in the fall where he will be perusing a double major in Biochemical Engineering and Software Engineering.
Gabriella Napolitano is a graduate from The University of Central Florida with her Bachelor of Fine Arts degree in Theatre Design and Technology, focusing in wardrobe management.  She has experience coordinating and dressing shows for traditional theatre, large-scale musicals, as well as opera. She worked in Lebanon, New Hampshire with Opera North for their Summer 2015 season as Wardrobe Manager for West Side Story, and The Abduction from the Seraglio and designing costumes for The Tender Land. While attending UCF she managed wardrobe for Nine, Reeling, and She Loves me.
Jason Nedrow is pleased to join the RMRT team for an exciting 2016 summer. A Penn State graduate and native of Harrisburg, Pennsylvania, Jason is currently the technical director for the Dickinson College Department of Theatre and Dance in Carlisle, Pa. Jason has been an active stagehand in the Central Pa. theatre community for more than 15 years. Regional credits include Allenberry Playhouse, Totem Pole Playhouse, Majestic Theatre and Messiah College. Jason is an active builder and painter with Cenyx Corporation, a Harrisburg, Pa.-based scene shop specializing in theatre, film and exhibit services. Jason would like to thank his wife, Serena, and two daughters, Sam and Addie, for their constant love and support.
Greg Paladino returns for his third year at RMRT, collaborating below the stage as conductor and behind the stage with music direction.  A piano performance graduate of SUNY Fredonia, he specializes in accompaniment and synth programming for theatre. Greg is currently active in both the performance and education of musical theatre at James Madison University (VA), where he acts as staff accompanist and MD/Assistant MD throughout the year.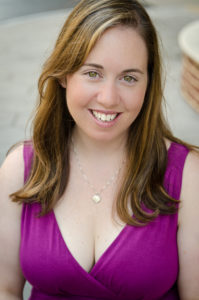 Amy Radebaugh is thrilled to be returning to the beautiful town of Grand Lake for her fourth summer and third fall! She has spent the majority of her professional career living and working in Atlanta, GA, at the Atlanta Lyric Theatre, Alliance Theatre, and Georgia Aquarium. Amy has recently spent time working for Theatre Horizon outside of Philadelphia, PA. Favorite RMRT shows of Amy's include A Chorus Line, Ring of Fire, Hands on a Hardbody, and Addams Family. Amy would like to thank her parents for all their continued love and support. She would also like to thank Michael, Jeff, and KB for the chance to spend another season in nature.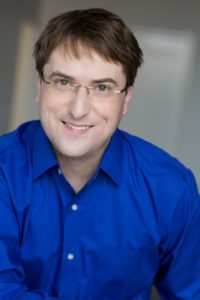 A.J. Robb This season is A.J.'s tenth working with Rocky Mountain Rep. He served as Associate Musical Director and Musical Director for fourteen shows during the 2004-2007 seasons, has orchestrated RMRT's annual Cabaret since 2011, and performed at the theater's annual holiday production since 2012. Outside of Grand Lake, A.J. is Producer and Assistant Musical Director for Disney in Concert, Adjunct Faculty at the American Musical and Dramatic Academy in Los Angeles, and has MD'd more than fifty productions of more than forty musicals. He is a first-call audition pianist in LA for current Broadway and West End productions including Book of Mormon, and his music can be heard on film soundtracks and live shows around the nation, and aboard cruise ships around the world. RMRT continues to be one of his most personally and artistically rewarding relationships.
Youki Sato is very excited to spend his first summer after graduating from college working for Rocky Mountain Repertory Theatre. Although this is his first experience working for a professional theatre, Youki has stage managed and worked as a carpenter for most of his high school and college career. After his brief stint at RMRT, Youki will be pursuing a Ph.D. at Rutgers University in Environmental Chemistry.
Jackson Zyontz is thrilled about making his debut at Rocky Mountain Repertory Theater this summer. He currently studies Art History at Dickinson College and is a part of Dickinson College Theater and Dance where he works as as an assistant lighting and sound designer. Outside of Dickinson Jackson works as the lighting and sound designer at the Franklin Park Performing Arts Center in Purceville Virginia where he has had the privilege of being the resident designer for the last five years. In his free time Jackson is a fire spinner and performs at local festivals and burns near his hometown of Middleburg, Virginia. Jackson hopes to use the skills he learns at Rocky Mountain Repertory Theater to further his aspiring career as a lighting and sound designer.
Musicians
Emily Barrett is a Chicago based music director, pianist, and dance accompanist. Her true passion lies within dance accompaniment and musical theatre music direction. In Chicago, she is a current faculty accompanist at the Joffrey Ballet, Ruth Page Center for the Arts, Hyde Park School of Dance, Visceral Dance Center, and Chicago High School for the Arts. Emily has also worked with theatre companies such as NightBlue Performing Arts, CUBE Ensemble, Hell in a Handbag Productions, Columbia College Chicago, and Pride Films & Plays. In 2012, Emily completed the Musician's Mentorship Program at Canada's National Ballet School of Toronto and in 2014, the Music Direction Intensive at the Goodspeed Opera House in East Haddam, CT. She holds a BA in Piano Performance from Columbia College Chicago. This is Emily's first season with RMRT and she could not be more excited to be here!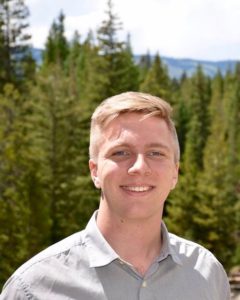 Ryan Blihovde is a Percussionist and Composer from Chicago.  He recently graduated with a bachelor's degree in Percussion Performance and Music Technology from Belmont University in Nashville, TN.  Ryan is very happy to be back in Grand Lake for his second season.  Ryan plans to move to New York in October to continue playing musical theatre and modern chamber percussion music.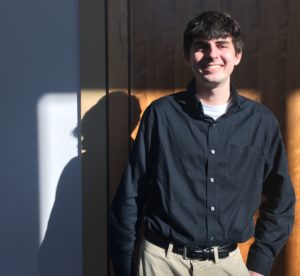 McKinley Foster is excited to be providing guitar and violin for the pit at Rocky Mountain Repertory Theatre this season. A recent graduate of West Chester University of Pennsylvania, McKinley has played in theme parks such as Hershey Park and Kennywood in Pittsburgh as well as in pit orchestras in the Philadelphia region. He composes and plays guitar and violin with the alternative rock band Strawberry Underground, and performs as a classical guitar soloist.
Todd Hale is overjoyed to be returning to Grand Lake.  When not in the pit he can be seen around town playing jazz classical and rock.  He would like to thank his family, and Michael and Jeff.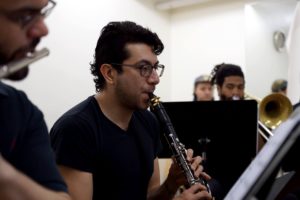 Henry Hernandez is grateful for the opportunity to spend a second summer in beautiful Grand Lake with his RMRT family! He's a woodwind instrumentalist based in NYC where he freelances as a pit musician and performs as second oboist with the Brooklyn Symphony Orchestra. He is a former Navy musician and studied woodwind performance at the University of North Texas. Henry is extremely lucky to come from an incredibly supportive family in South Texas and owes the world to his parents for continuing to believe in him.