Education
---
Experiences to Carry Through Life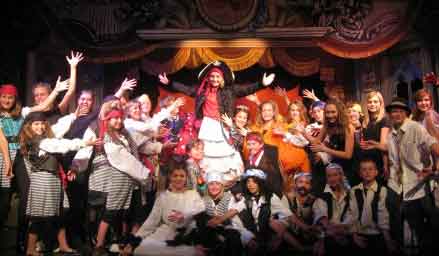 The RMRT Youth Theatre Program's mission is to provide Grand County youth, ages 7 to 18, with an educational, cultural and empowering life experience through participation in a theatre workshop. Directed by critically acclaimed teaching artists from around the country, each program culminates in performances in which participants engage in all phases of theatrical production.
**2020 Youth Theatre Camp Announcement**
All three camps – Youth Theatre Workshop, Youth Theatre Production, and Teen Theatre Academy have been cancelled due to concerns relating to the spread of COVID-19. The Colorado camp guidelines compromise the integrity of our program and do not allow us to deliver on our commitment to a fun, imaginative, safe, ensemble-based experience. Full tuition refunds will be processed by our office.
Over the past three months Will and Sam Beach-Kiley, our new Education Directors, have worked with Executive Artistic Director Michael Querio and Associate Artistic Director Jeff Duke to analyze national and local health recommendations connected to COVID-19 as they relate to our summer programming. While it pains us to alter course from our original programming, our utmost responsibility is to the safety of our campers and the community of Grand Lake.
***
But we have come up with an alternative course of action for the summer of 2020:
***
The Academy (July 20th-31st) – a low risk, in-person, alternative to YTP & TTA
Our new summer program, The Academy, will offer students individualized instruction in acting and singing. Over the course of five sessions, participants will work with both a singing and an acting instructor to develop theatrical material that expands, refines, and showcases their talents. Each of these hour-long sessions will include two students and two teachers. This approach will provide the RMRT education team an opportunity to offer highly specialized and personal instruction in a way that has never been possible with larger groups of students.
The faculty includes Samantha and Will Beach Kiley (Acting), Christopher Lengrich and Steve Russell (Singing). The cost of the program is $200 per student. Limited scholarships are available. The Academy needs a minimum of 25 students in order to run and can support a maximum of 40 students. The attached document shares more details about the Academy, safety precautions, and how registration will work.
The Academy experience is open to students ages 10-18. Unfortunately, this summer there will be no alternative option for our 7-9 year-old campers, for whom social distancing is more difficult and the rigor of private lessons, too intensive.
Please call our administrative office for more information about The Academy if you are interested in registering (970) 627-5087.
We have a new Facebook page: Rocky Mountain Rep Youth Theatre Check it out!!
For questions or more information about our Youth Programs, please use our contact form: